Highlights from "The Courage to Be Disliked"
By Ichiro Kishimi and Fumitake Koga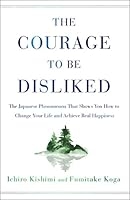 None of us live in an objective world, but instead in a subjective world that we ourselves have given meaning to. The world you see is different from the one I see, and it's impossible to share your world with anyone else.
'No experience is in itself a cause of our success or failure. We do not suffer from the shock of our experiences—the so-called trauma—but instead we make out of them whatever suits our purposes. We are not determined by our experiences, but the meaning we give them is self-determining.'
Your life is not something that someone gives you, but something you choose yourself, and you are the one who decides how you live.
in order to fulfil the goal of shouting, you created the emotion of anger.
But if you are going to tell me that people are beings who can't resist emotion, I'd argue against that.
'People are not driven by past causes, but move toward goals that they themselves set'—that
When we try to change our lifestyles, we put our great courage to the test. There is the anxiety generated by changing, and the disappointment attendant to not changing. I am sure you have selected the latter.
Adlerian psychology is a psychology of courage. Your unhappiness cannot be blamed on your past or your environment. And it isn't that you lack competence. You just lack courage. One might say you are lacking in the courage to be happy.
'No matter what has occurred in your life up to this point, it should have no bearing at all on how you live from now on.' That you, living in the here and now, are the one who determines your own life.
You were so afraid of interpersonal relationships that you came to dislike yourself. You've avoided interpersonal relationships by disliking yourself.
The real issue is how one confronts that reality. If what you are thinking is, I'm not well educated, so I can't succeed, then instead of I can't succeed, you should think, I don't want to succeed.
If one really has confidence in oneself, one doesn't feel the need to boast. It's because one's feeling of inferiority is strong that one boasts.
Quite a few people try to be a 'special being' by adopting this kind of attitude when they are sick or injured, or suffering the mental anguish of heartbreak.
The first thing that I want you to understand here is the fact that anger is a form of communication, and that communication is nevertheless possible without using anger. We can convey our thoughts and intentions and be accepted without any need for anger.
there are two objectives for behaviour: to be self-reliant and to live in harmony with society. Then, the objectives for the psychology that supports these behaviours are the consciousness that I have the ability and the consciousness that people are my comrades.
These highlights are sourced from my Kindle using Readwise. Readwise automatically syncs all your highlights from various sources. It's cool.
Referral link
if you'd like to try.