Highlights from "The Daily Stoic"
By Ryan Holiday and Stephen Hanselman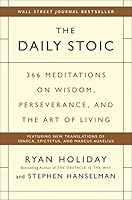 If we can focus on making clear what parts of our day are within our control and what parts are not, we will not only be happier, we will have a distinct advantage over other people who fail to realize they are fighting an unwinnable battle.
When your efforts are not directed at a cause or a purpose, how will you know what to do day in and day out? How will you know what to say no to and what to say yes to? How will you know when you've had enough, when you've reached your goal, when you've gotten off track, if you've never defined what those things are?
But you must reclaim the ability to abstain because within it is your clarity and self-control.
an honest understanding of what is within our control provides real clarity about the world: all we have is our own mind.
It's not by eliminating outside influences or running away to quiet and solitude. Instead, it's about filtering the outside world through the straightener of our judgment. That's what our reason can do—it can take the crooked, confusing, and overwhelming nature of external events and make them orderly.
be.
remind yourself that aside from the choices you make, your fate is not entirely up to you. The world is spinning and we spin along with it—whichever direction, good or bad.
According to the Stoics, the circle of control contains just one thing: YOUR MIND. That's right, even your physical body isn't completely within the circle. After all, you could be struck with a physical illness or impairment at any moment. You could be traveling in a foreign country and be thrown in jail.
euthymia, which he defines as "believing in yourself and trusting that you are on the right path, and not being in doubt by following the myriad footpaths of those wandering in every direction." It is this state of mind, he says, that produces tranquility.
It takes an artist's eye to see that the end of life is not unlike a ripe fruit falling from its tree. It takes a poet to notice the way "baking bread splits in places and those cracks, while not intended in the baker's art, catch our eye and serve to stir our appetite" and find a metaphor in them.
more things we desire and the more we have to do to earn or attain those achievements, the less we actually enjoy our lives—and the less free we are.
Marcus Aurelius would suggest this Stoic mantra—a reminder or watch phrase to use when we feel false impressions, distractions, or the crush of everyday life upon us. It says, essentially, "I have the power within me to keep that out. I can see the truth."
Anger is not impressive or tough—it's a mistake. It's weakness. Depending on what you're doing, it might even be a trap that someone laid for you.
It's time we start seeing it that way—that we're not puppets that can be made to dance this way or that way just because we feel like it. We should be the ones in control, not our emotions, because we are independent, self-sufficient people.
Every time you get upset, a little bit of life leaves the body. Are these really the things on which you want to spend that priceless resource? Don't be afraid to make a change—a big one.
The Zen meditation teacher Jon Kabat-Zinn coined a famous expression: "Wherever you go, there you are." We can find a retreat at any time by looking inward. We can sit with our eyes closed and feel our breath go in and out. We can turn on some music and tune out the world. We can turn off technology or shut off those rampant thoughts in our head. That will provide us peace. Nothing else.
One ironic assumption along these lines: that having a lot of money makes you wealthy. Or that because a lot of people believe something, it must be true.
For, as Epictetus reminds us, "the first and greatest task of the philosopher is to test and separate appearances, and to act on nothing that is untested."
Or worse and more precariously, we don't feel good about our accomplishments or talents until some third party validates them.
cured patients suffering from phobias or neurotic habits using a method he called "paradoxical intention." Let's say a patient couldn't sleep. The standard therapy would have been something obvious, like relaxation techniques. Frankl instead encouraged the patient to try not to fall asleep. He found that shifting focus off the problem deflected the patient's obsessive attention away from it and allowed them to eventually sleep normally.
These highlights are sourced from my Kindle using Readwise. Readwise automatically syncs all your highlights from various sources. It's cool.
Referral link
if you'd like to try.