Found the perfect writing setup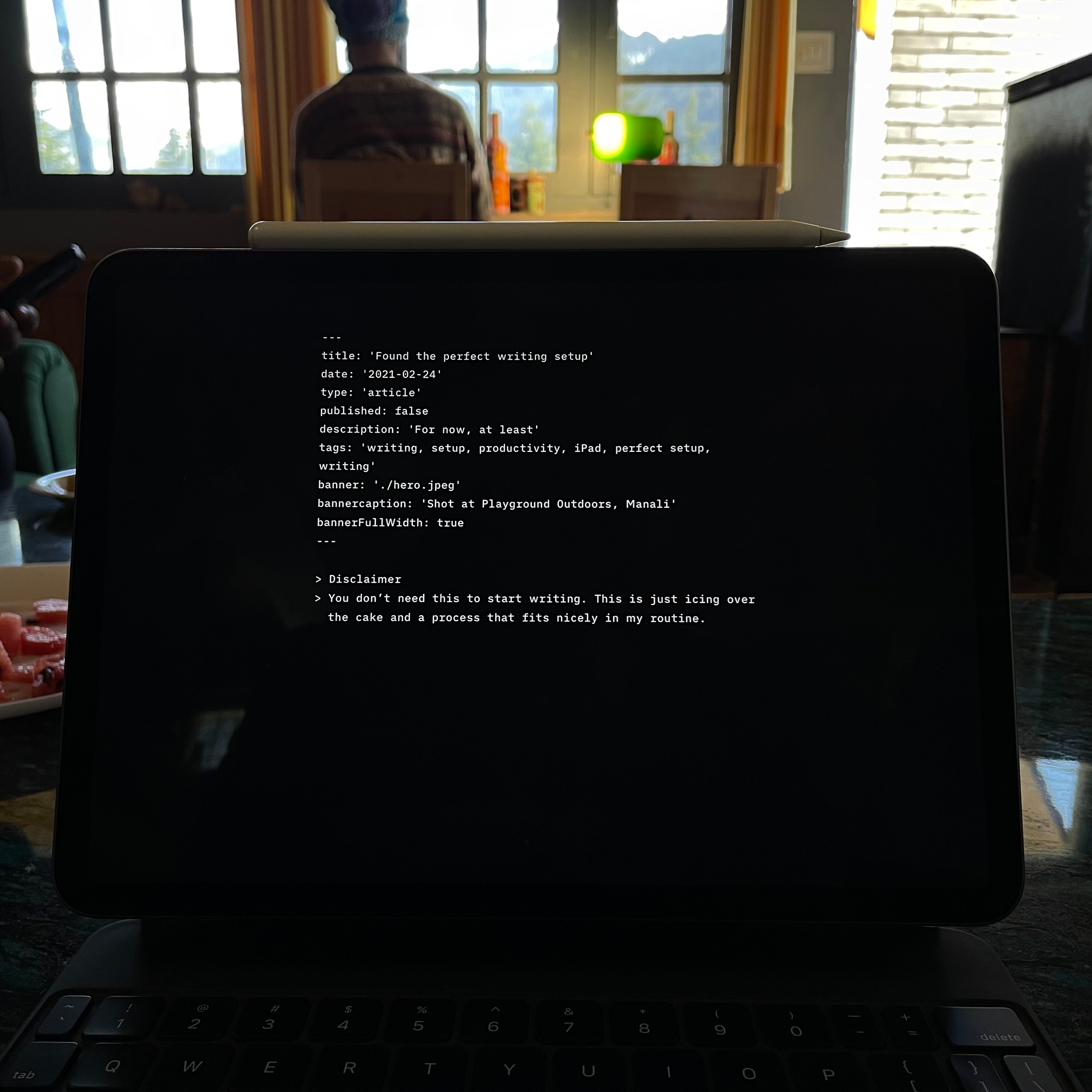 Shot at Playground Outdoors, Manali
📌 Disclaimer

You don't need this to start writing. This is just icing over the cake and a process that fits nicely in my routine.
The setup involves 2 apps, Working Copy & iA Writer, and my iPad. And it costs ₹1799 + ₹2699.
Working Copy is a Git client for iOS and iPadOS. I works really well to clone, add new commits and push (requires a pro subscription, hence ₹1799 cost).
iA Writer is a beautiful, focused, markdown writing app. Its the one you see in the picture above.
How it works together
Working copy clones the repositories to the Files locally. I open the repo in iA Writer and edit / add new content. I go back to Working Copy, select the changes and push. The website is updated. 🎉
Things I like in this setup
Offline first. I can open and start writing on iPad irrespective of the network connection
Syncs directly to GitHub, so it gets built and deployed when updated.
It looks beautiful, keeps me focused and lets me use my iPad. Which is good because, I don't want to open / sit with my laptop after work.
Bonus
When ever I open iA Writer, Shortcuts (automations) make sure the content I have is up to date by pulling content from the repository. Thanks Quinn!
I still manually commit the changes from Working Copy app as I don't want to push commits (and re deploy the website) every time I close the app.
---
This is likely to evolve or discarded completely. 😅 I'll post the updates here as usual.
By Aravind Balla, a Javascript Developer building things to solve problems faced by him & his friends. You should hit him up on Twitter!